A Bit of Ancient Caerleon Mon Scene of Present Roman Excavations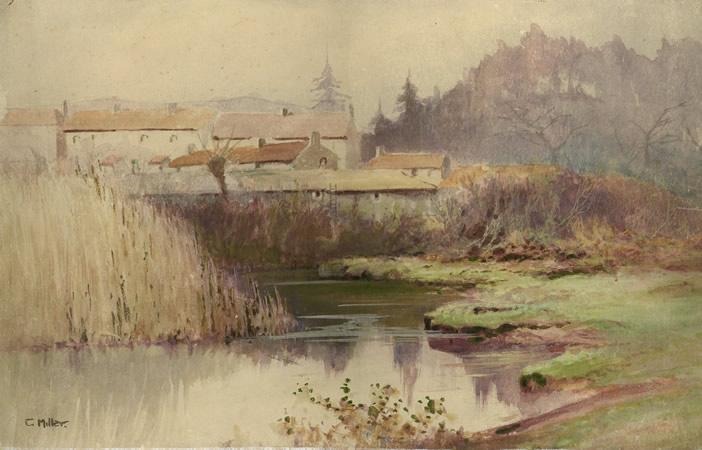 Watercolour painting.
This is an unusual view of Caerleon. The mound to the right at the back is the Mynde and the top row of houses to the left are the buildings on Castle Street. Some of the other houses have since been demolished. Nowadays Castle Mews is situated to the right of this picture.
The water in the foreground is something of a mystery. The viewpoint of the artist seems to be on the Caerleon side of the River Usk (not the Ultra Pontem side) but water does not appear to be wide enough to be the Usk. Maybe it's an inlet.
We think the painting was executed by Edgar James Maybery working under the pseudonym G. Miller. On the reverse the following text is written: "A Bit of Ancient Caerleon (Mon) Scene of present Roman excavations." This most likely refers to the excavation of the amphitheatre and barracks in 1926/27.
If you have any information about why Maybery used pseudonyms or what the water in the foreground is please contact us via the link below.