King Arthur - A Curious Story...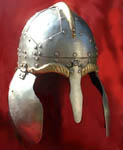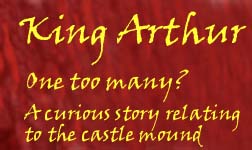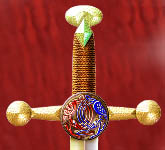 This text is taken from the excellent book Caerleon past and Present by Primrose Hockey, published by Starling Press Ltd 1981.
"Legend tells us that King Arthur and his Knights lie sleeping in Caerleon, awaiting the call to arms for their beloved country. And what better place to lie undisturbed than beneath the green mound, now surrounded by a turreted wall. But there was not always a wall there and the present wall was built by Mr. John Jenkins, owner of the Caerleon Tin Plate Works in 1820. It was prior to this that a Caerleon man experienced an unusual adventure."

"Wending his way down Mill Street, after a night out at the Red Lion, he was amazed to hear sounds of music and revelry coming from the direction of the Mound. Being curious, he went to investigate only to be arrested by a soldier in an ancient type of uniform. He was led to where a great iron doorway led into the Mound. He was welcomed by men in armour and bidden to partake of the excellent food and wine with which the tables were laden. On the tables were also heaps of gold and silver. To his amazement he discovered that he was sitting at table with King Arthur and his Knights and was made to feel quite at home. When he had had enough he decided to leave and he was given a bag of gold coins and bade "God speed" when he left. In the morning he was found lying dead drunk by the roadside near to the Mynde. Although he had no gold on him, he insisted that his story was true. He became teetotal and to the day of his death persisted in telling his story."
In 1878 Robert Woollett, the owner of the Castle Mound, dug a tunnel to the centre partly to disprove "the most absurd and extraordinary myths (which) had got afloat and were held fast by the Village Gossips with great tenacity." To read his account follow this link.